Garage Door Maintenance
Back To Our Services
Wood Panel Care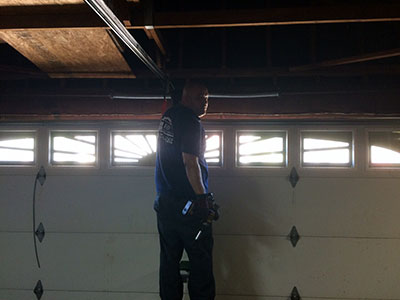 The work starts with checking for any sings of decay. The places where the wood is decaying are darker and softer to touch. These sections should be fixed right away. The next step involves removing any cobwebs with a broom or cleaning mop. The panels don't need washing, but gentle cleaning with damp lint-free cloth. It is important to wipe them clean from all sides. Unless there is stubborn dirt, there is usually no need for using a commercial wood cleaner. The panels require annual repainting as part of their proper maintenance to stay protected from water damage. Exterior grade paint especially formulated for wood is the best choice. If the paint hasn't been used before, it should be tested on a small section which is not clearly visible. If there are bubbles or cracks, a different product should be used.
Safety Sensors Maintenance
Inspection comes first. The wiring is checked for twists and cuts. If necessary, the cords should be replaced without delay. The photo eyes are checked for damage. Both the casing and the covers of the infrared sensors deserve close attention. If the damage is beyond repair, the sensors should be changed. If they are in good condition, they will need just cleaning. It is sufficient to wipe the dust with just slightly damp soft cloth. After cleaning, the sensors should be accurately aligned to face each other. The final step is testing. It starts with opening the door and blocking one of the sensors with a free-standing object. When the door starts closing with the opener, it must stop immediately. Otherwise, the sensors should be checked and replaced or aligned accordingly.